This article is an extract from the of Law Society of Ireland, celebrating the first 100 women solicitors.
The First 100 Women Solicitors
Jane Teresa (Jenny) McGowan was born in Balbriggan, County Dublin in 1916, the ninth of eleven children of Joseph, a publican, and his wife Teresa (nee Edwards).
Having survived the infamous 'Sack of Balbriggan' in September 1920, when the family was evacuated from their home and pub as the premises were razed to
the ground by the Black & Tans, she was educated locally by the Loreto sisters, a relationship she cherished throughout her life, serving for several years on the national council of the Loreto Past Pupils Union, of which she was President in 1970.
Jenny graduated with a B.A. from U.C.D. in 1936 and qualified as a solicitor in January 1939, commencing practice with her brother Gerrard L. (Gerry) McGowan in Balbriggan. She retired from practice on the birth of her first child, Mary, having married Frank (F.X.) Glennon of Skerries in 1951.
A keen sportswoman, Jenny played tennis and hockey in her youth, winning her hockey 'blue' with U.C.D., and was Lady Captain of Skerries Golf Club in 1952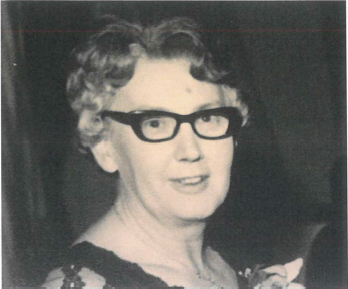 Understandably perhaps with six brothers playing the game, she was an avid rugby follower – another interest she retained throughout her life.
On the sudden death of Frank in 1969 she returned to work with Gerrard, who had in 1959 been joined in practice by their nephew Joe (Joseph M.) McGowan. Gerrard himself died suddenly in 1971 and nephew and aunt continued in practice until Joe's sudden death in 1988.

In addition to her involvement with Loreto PPU, she was an active supporter for many years of both the Rehabilitation Institute and the emerging 'Itinerant Settlement Movement'. She also chaired the inaugural Board of Management of Skerries Community College, formed on the then ground-breaking amalgamation of the three secondary schools in the town previously managed independently by the De La Salle Brothers, the Holy Faith Sisters, and the County Dublin Vocational Education Committee.

Having developed a significant practice centred on probate and conveyancing, Jenny worked until her death on Christmas Day 1989, survived by her children, Mary (Ryan), Jim, and Jane (Hanratty) and her grandchildren Miriam and Richard Ryan, Frank, Louise and Joe Glennon, and Tom and Jack Hanratty.

The practice is carried on today by Donogh McGowan, son of Joe and grandnephew of Gerrard and Jenny.

Source: Jim Glennon, son and Donogh McGowan, Solicitor & Grandnephew.